Vince "Slim Vincent" Radosti
1927 - March 30, 2010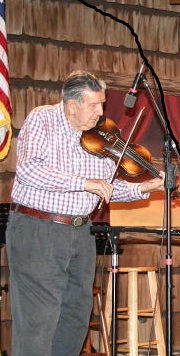 Vince Radosti has passed away at the age of 83 years. A well known fiddler around southern New Jersey for over 60 years, Vince fronted his own band for many years and acted as a mentor to many younger players in his later years. Many of those that Vince picked with over the years never knew his last name. They simply knew him by his stage name of Slim Vincent, a moniker he had used for decades. Vince was a guy that told you what he thought and will be missed by those of us that had the joy of picking with him. We know he's up there showing somebody how it's supposed to be done. Play it pretty Vince.
VINCENT JOHN RADOSTI
AGE: 83 MANALAPAN
Vincent John Radosti, 83, of Manalapan Township, died Tuesday, March 30, 2010, at Robert Wood Johnson University Hospital, New Brunswick. Born in Patterson, he grew up in Jackson before moving to Manalapan Township in 1947. Mr. Radosti was a communicant of Our Lady of Mercy Roman Catholic Church, Englishtown and was a member of the Prince of Peace Council No. 5903, Knights of Columbus. Mr. Radosti owned the Model Shop in Englishtown prior to retiring. He enjoyed antiquing and spent most of his time playing bluegrass and country music with friends and entertaining at Albert Music Hall in Waretown. Mr. Radosti was predeceased by his wife, Rita, in 2009. He is survived by his two daughters, RoseAnn Weeden of Belmar, and Anita Reeves and her husband Richard of Englishtown; his son, Frank and his wife Susan of Jackson; seven grandchildren, James Weeden and his wife Martha, Harry Weeden and his wife Jennifer, JeanAnn S. Weeden, Vincent Reeves and his wife Jennifer, Pauline Castellani and her husband John, and Vittoria and Alessandra Radosti; and seven great-grandchildren. The viewing will be from 2 to 4 p.m. and 7 to 9 p.m. Monday, April 5 at Higgins Memorial Home, 20 Center St., Freehold. The Funeral Liturgy will be celebrated at 10 a.m. Tuesday, April 6 at St. Thomas More R.C. Church, 186 Gordons Corner Road, Manalapan, followed by interment at St. Rose of Lima Cemetery, Freehold. Memorial donations can be made to the Pinelands Cultural Society at PCS, P.O. Box 657, Waretown, NJ 08758. Please reference "music hall preservation.
Our thanks to Roy Everett and our friends at the Pineland Cultural Society for graciously allowing us to use their image of Vince.