The History and the Founders
The Bluegrass & Oldtime Music Association of New Jersey was founded in 1978 when a group of like-minded friends got together for some informal pickin'. From those original nine founders the organization has grown to what it is today. We salute those original nine founders here and thank them, and all that have followed them, for keeping the music alive.

In this photograph taken in 1978 there are eight of the nine founders. Standing in the back row left to right, Bill Hoffman and Harold Buckelew. In the front row left to right Bev Hoffman, Dot Buckelew, Dolly Farmer, Joyce Burrows, George Burrows, and Steve Hammond. Wayne Farmer is not pictured here.
The Bluegrass and Oldtime Music Association of NJ Inc.
By Joe Fili
This article appeared in Bluegrass Unlimited magazine in October of 1984 and is used with permission
A traveling businessman from Maryland once told me that whenever he thought of New Jersey all he could remember were power lines. After further discussion, I discovered that this was because he had never really gotten off the New Jersey Turnpike, and was satisfied to conceive of the entire state as a tangled web of wires and roads. Jerseyites are victims of this type of generalization all the time and their reactions are varied. Some shrug it off, others become offended. Most of us however find it all a bit amusing. Consider for example that we have the largest single wilderness area east of the Mississippi, the famed Pine Barrens, replete with moonshiners, monsters (the Jersey Devil), volumes of early American history and some of the finest country people imaginable. New Jersey today remains one of the few states in the Union with enough arable farmland to feed nearly all of its own population in the event of a serious economic collapse. We have mountains, coastal plains, rich central farmlands and beaches of unspeakable beauty and majesty.
The early settlers of New Jersey, like their counterparts south of the Mason-Dixon line, brought with them a rich and enduring musical heritage from the Old World. As string music and country music evolved in America, Jersey lost no ground in forming and nurturing a folk music tradition of its own. Like the reclusive inhabitants of the hollers and hills down south, pickers in the mountains and Pine Barrens of New Jersey fiddled and picked their music for years and for years it remained quite guarded and provincial. The love for Bluegrass and Old-Time music which many Jerseyites have is not new. It has risen out of an authentic and vibrant folk tradition much like that of Appalachia. Presently there is an organization in New Jersey which is largely responsible for the preservation and appreciation of local string music. This is the The Bluegrass and Oldtime Music Association of New Jersey, better known as BOTMA. The conception of the organization can be traced back to the "original nine," then and now the nucleus of BOTMA. These are Harold and Dot Buckelew, Wayne and Dolly Farmer, Bill and Bev Hoffman, Geroge and Joyce Burrows and Steve Hammond.
At a New Years Eve pickin' party in 1977, these energetic folks decided that there were people in New Jersey who would respond enthusiastically to the idea of an offical organization dedicated to bluegrass and old-time music. After pooling their money, applying to the state for non-profit status and waiting for what seemed as interminable time, BOTMA officers and trustees launched the organization. In those early days, the Appalachian Fiddle and Bluegrass Association , an exemplary bluegrass outfit from the state of Pennsylvania, shared its wisdom and experiences with BOTMA, expedditing the new organization's implementation and refinement of by-laws, business meetings and financial transactions. The group began to gain momentum and members began joining.
Since its incorporation in March, 1978, the organization has acted like a magnet, drawing string musicians of all styles, abilities, social backgrounds and ages, including members from bordering states Delaware, New York and Pennsylvania. At the first few public pickin' sessions, BOTMA seemed a conglomeration of strangers who knew little or nothing about each other. Yet all communities much have an underlying purpose for existence and there is no denying that the central commitment to playing and appreciating bluegrass and old-time music keeps BOTMA tightly bonded. This desire to celebrate the music is BOTMA's single driving force and it has acted as a cornerstone in the formation of this musical community.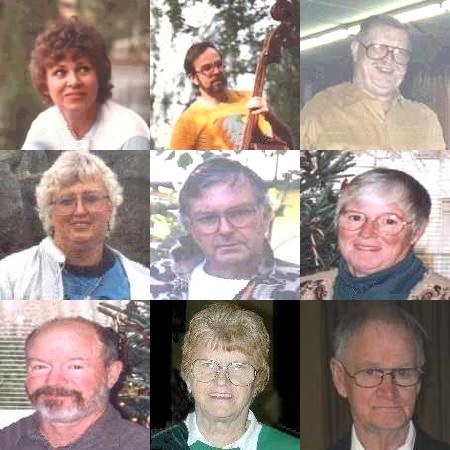 The nine founders from left to right, starting on the top row Dolly Farmer, Wayne Farmer, and Steve Hammond. Middle row left to right Bev Hoffman, Bill Hoffman, and Joyce Burrows. Bottom row, again left to right George Burrows, Dorothy Buckelew, and Harold Buckelew.
BOTMA has its monthly jam sessions on the third Sunday of every month from September to May at the M&M Hall in Old Bridge, New Jersey (Please note: Now at the Embury Methodist Church in Little Silver New Jersey) The summer months are left free for traveling to festivals and camp-outs. Apart from the BOTMA summer and autumn camp-out at Allaire State Park, the jams are the organization's main social gatherings. At these jam sessions one finds the amazingly diverse constituents of BOTMA picking shoulder to should inside and outside the Hall. There are old-timers with washtub basses and red supendes and little ones learning the first few bars of "Arkansas Traveler." There are computer programmers jamming with old Piney trappers from the Barrens, fledgling musicians standing together with recording artists, testing their newlt learned skills.
The atmosphere provides the chemistry for pickin' sessions in which almost everyone can find a niche. Bill Krum of Hobo Bill and the Jersey Ramblers says, "I've been to a lot of different places and there's some places where people don't want to hear you cause you might be a little different. You know my music is a little bit country, a little bit bluegrass. Some people don't like that. But I came to the M&M Hall and here people, why, they just let you play. You can get up on stage and people will appreciate your music. The people here treat you real good." Bill's present band consists of members he met at the BOTMA sessions. Others have expressed these same feelings. Friendships formed, contacts were made and directly or indirectly, BOTMA began to assist in the evolution of new and existing bands in the the tri-state area. One such band is the new and exciting Jersey Travelers with Rich Stillman on banjo, Rich La Tourette playing bass, Steve Hendershot doing fiddle and mandolin and Jim lang, guitar. THese boys play no-nonsence, harddriving bluegrass and have recently released their first album, "leavin' Town." This past summer they've played festivals, square dances and shindigs of all manner and are eagerly looking forward to future recording sessions. Another Jersey band consisting of several BOTMA members is D.W. Griffith and the Rank Strangers.
Banjo wizard D.W. Griffiths started not a few complacent banjo pickers with his first album, "Workingman's Banjo." His latest bluegrass album, "Hopeless Passion," with the Rank Strangers, features Matty Levine, dobro; Vic D'Amico, mandolin; Dick Torstrick, fiddle; Randy Bailey, bass and Bob Harris, who's dazzling guitar work has led to an album of his own ("Guitar Bob Harris"), later reviewed in BU, March, 1983 which noted "...it could very well be the sleeper instrumental album of the year." Festival goers up north will remember the high-energy music and raucous humor of Late Nite Garage. Until tenor singer Don Hayes left for employment in Texas, Late Nite Garage was the reigning Jersey bluegrass band and had cut one album before suspending it's activities. If you were at the Corinth Bluegrass Festival in New York in 1979, you'll remember the fine performance delivered by the band, which won them first place in the band contest.
The all-girl bluegrass band Sweet Dixie has had a long and notable association with BOTMA. The band has recently reorganized its personnel and will continue its work at festivals and shindigs. The girls have put together an impressive vocal ensemble and have not ruled out a possible album in the future. There are more bands worth the words here too, Shades of Grass, Morgan Cheek, Kittatiny Mountaineers, Buck's Run and others-but space doesn't allow. BOTMA has had a hard hand in the formation of these groups and perhaps we'll hear more about them in the days to come. The above mentioned bands have inspired many musicians in the BOTMA organization and they have demonstrated that bluegrass is alive and well in New Jersey. The membership of BOTMA has grown to over 300 people, but many feel that there is still potential for more. Since the organization is relatively young, those who look down an optimistic road envision a full-blown bluegrass festival run by BOTMA someday. Of course, the officers are wary of this since the other side of the festival coin can be truly economically dangerous if even just one or two variables go wrong (like the weather!) However, BOTMA presently offers a concert program inside the Hall during the winter months and though it is a modest affair, it has proven to be quite popular for many members.
Guitar picker Jim Hickey says, "A lot of people say they can't wait until the summer to go to festivals and see some great bluegrass, but some of the best concerts I've seen have been at the M&M Hall during the winter. One memorable concert was Del McCoury and the Dixie Pals. This was shortly before the tragic death of Sonny Miller who was then fiddling for Del. The Dixie Pals put on a show that members still talk about to this day. To many this concert stands as a monument to Sonny Miller, who many consider to be one of the greatest bluegrass fiddlers who ever lived. The Hall has also hosted Dry Branch Fire Squad, Bob Paisley, Larry Sparks and others. The concerts are not for making money. In fact, the officers of BOTMA try very hard to keep all ticket prices as low as possible. Because this policy is a strong one, there have even been concerts where the organization has taken a loss. However, up to this point, losses have never been the first priority. As long time BOTMA secretary Dolly Farmer (who has recently stepped down and will be replaced by Joyce Rogers) says, "I think the main thing we started out to do is what we are doing well and that is the people getting together. The people want to get together and play. The concerts are a development from that."
As far as getting people together, the President of BOTMA, Harold Buckelew, has done his share. Under his prompting and later his leadership, the original nine came together. Today Harold is busier than ever. Now that BOTMA is running on full steam, presiding over the business and social responsibilities of the organization is no mean task. Yet, Harold has also found time to assist bluegrass pickers from Germany to come over and share their music. As far as Harold is concerned, a little boundary like the Atlantic Ocean is no problem if its a question of bluegrass. The present strength and structure of BOTMA exists because of the dedicated and consistent work that Harold and his wife "Dot" and the other seven founding members have contributed. All the members of BOTMA have them to thank, for it is their selfless labor, a labor of love, which has brought the fruits of this bluegrass community to life. Perhaps this is one of the more enduring cliches in the world of bluegrass. You play bluegrass because you love it. This is the philosophy of BOTMA and it has served as a rallying point for an organization sworn to the preservation and appreciation of the music.
Perhaps Chubby Conine, New Jersey patriarch and banjo picker for Late Nite Garage sums it up best: "When you listen to the Stanley Brothers, what do you really hear? Do you fret about the possibility that the vocal harmonic intervals do not strictly conform to what somebody else says it should be, or do you hear 'A Man of Constant Sorrow"?" Anyone who has felt the hair rise on the back of his neck during a Stanley Brothers vocal tour de force knows the answer to Chubby's question. In the final analysis, it is not the mountains, rivers, hollers and hills (whether they be above or below the Mason-Dixon line) that keep bluegrass alive. Bluegrass lives on faith. It lives in the hearts and hands of people who believe in it. The Bluegrass and Oldtime Music Association of New Jersey believes.